Each SpaceNet challenge focuses on a different aspect of applying machine learning to solve difficult mapping challenges.
SpaceNet 5 Challenge
Automated Road Network Extraction, Routing, and Travel Time Estimation
Determining optimal routing paths in near real-time is at the heart of many humanitarian, civil, military, and commercial challenges. This statement is as true today as it was two years ago when the SpaceNet Partners announced the SpaceNet Challenge 3 focused on road network detection and routing. In a disaster response scenario, for example, pre-existing foundational maps are often rendered useless due to debris, flooding, or other obstructions. Satellite or aerial imagery often provides the first large-scale data in such scenarios, rendering such imagery attractive.
The SpaceNet 5 challenge seeks to build upon the advances from SpaceNet 3 and test challenge participants to automatically extract road networks and routing information from satellite imagery, along with travel time estimates along all roadways, thereby permitting true optimal routing.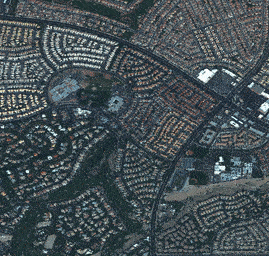 Las Vegas road network inference colored by road speed